Italian handicraft works in iron
Handcrafted iron furniture in modern and classic style
From our century-old forge we made indoor and outdoor furniture in modern and classic styles, as well as classic works such as fixtures and gates made with full iron that ensure safety and durability
In addition unique sculptures come to life, some of them furnished important chalets in Switzerland, villas in the United States of America, Cellars throughout Italy or in our special Chianti region cellars, that among its vineyards and olive tree groves hold this old blacksmith shop.
Below we present some works: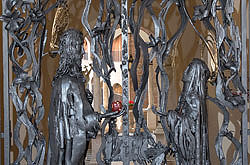 Wrought iron gate Sanctuary of St. Catherine of Siena
The Bottega Bernabei is pleased to present you some pictures of the new wrought iron gate dedicated to St. Catherine of Siena to be visited today in Costa Via Sant 'Antonio 6 in Siena.

Follow us on Facebook where you can find many other classic and high prestige works and do not hesitate to contact us if you need any information or request.